Before the pandemic, many participants in the art market made their indecisive steps towards the transition to the online space. For example, many museums held virtual exhibitions, excursions, and workshops before the pandemic. But cultural institutions have always had a fear that due to rapid technological progress and the rapid transition of all aspects of life to online, institutions could lose valuable live traffic offline and cease to be interesting to consume in the presence.
Of course, the start of the Covid-19 pandemic has led to the fact that the transition to digital space has become the only possible way to survive in such a difficult time and continue to be in touch with spectators. However, now we are in a post-pandemic period when institutions have re-opened the doors to live communication with spectators, many restrictions have been lifted and everyone hopes that they will not return to our lives. Although the world is moving in this direction, the impact of covid-19 upon institutions will be felt for a long time in all their further actions.
There is a general concern, that in the nearest future a similar situation may repeat again, and that to this time cultural institutions should be ready for it. In the period of the art world's transition to digital space, the creation of virtual exhibitions became not only a possible way of development, but a vital necessity.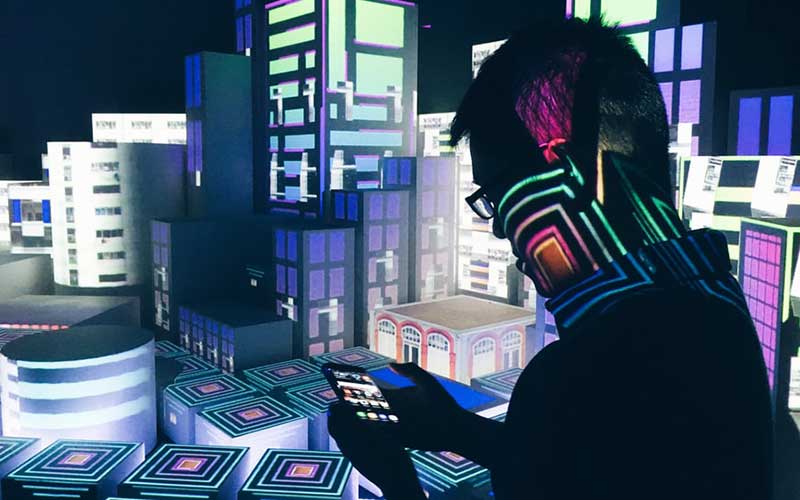 Why are cultural institutions looking towards virtual exhibitions?
After the pandemic, there were behavioral changes in all market players, which are likely to persist in the future, so that the system can be ready for such situations. That's why many cultural organizations continue their path of digitization collections and creating exhibitions that can be accessed from different parts of the world, regardless of the situation.
One of the main goals for everyone should be the creation of a sustainable ecosystem of the digital art world, which can work not only in peacetime but also in times of crisis, providing access for cultural enrichment and the financial functioning of the market. Virtual and digital spaces depend on each other and cannot exist separately, no matter how many people try to separate them. Because, as the consequences of any progress, the formation of a digital market has already occurred and people have managed to realize the benefits that it gives them.
How to get into digital art? – you can find out from our review article
To continue to be relevant to their visitors, art institutions need to expand their activities on digital space. In order to engage in the cultural enrichment of society and the preservation of cultural heritage for future generations, art institutions need funds to carry out these two social functions. And it can be highlighted that this not only solves the urgent problem of access to objects of art and culture but also expands the possibilities of museums and spectators.
It gives access to the collections of museums to an additional flow of visitors who were previously unable to visit them due to various factors (location, finances, and so on), and also provides an additional opportunity for museums to expand their activities and work into two spaces – online and offline, thereby creating an additional cash flow.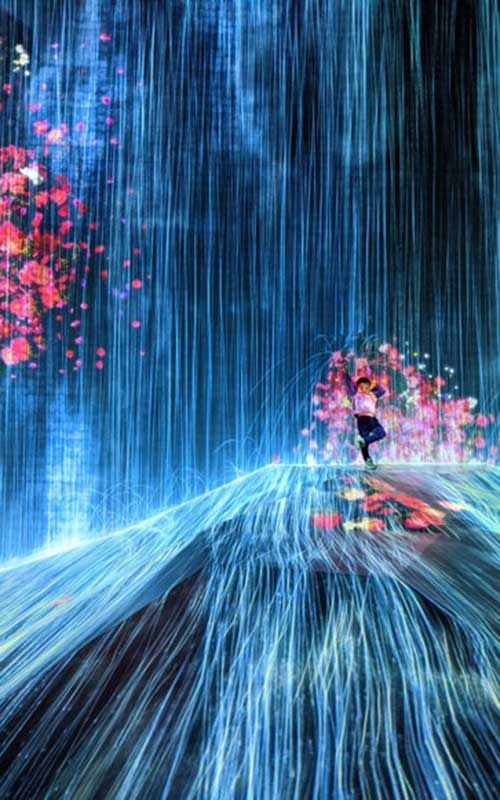 What has changed in the field of collecting?
As for collectors, it can be highlighted that a new market has formed with new players, which didn't exist before. Furthermore, this new market has significant differences from the traditional one. Then, more than now, the main figures in the market were older people n, well versed in the art and its history, and it was quite difficult for new players to get into this market, then within the framework of the new digital art market, generation Z has come to replace these collectors.
These are young people who are well versed in modern technologies, have financial resources, and are familiar with the concepts of blockchain, cryptocurrency, and NFT. It is easy for them to enter the still-emerging market, where they can appear in the role of collectors. This generation is prone to unconscious purchases based on their emotions and feelings received from artworks and they pay much less attention to more valuable factors.
They don't care about the techniques or the history of creation. For them, the uniqueness of the artwork is more important, the possession of which will make them unique too. Within this market, being a collector means a big PR role. It's important to say that art institutions shouldn't turn away from these new players. On the contrary, they should accept the rules of the game and educate this generation about the art world so that their actions become less chaotic over time, and collectors themselves relied more on significant components while making a purchase decision.
How to make digital Art NFT? – find out in detail in our review
Therefore, the functions of museums and other art institutions in the virtual space are added not only display and sale of artworks but also the educational one. In fact, if we consider the digital art market in comparison with the traditional one, then all functions have moved from the second to the digital one. However, this is a new market with different rules of the game.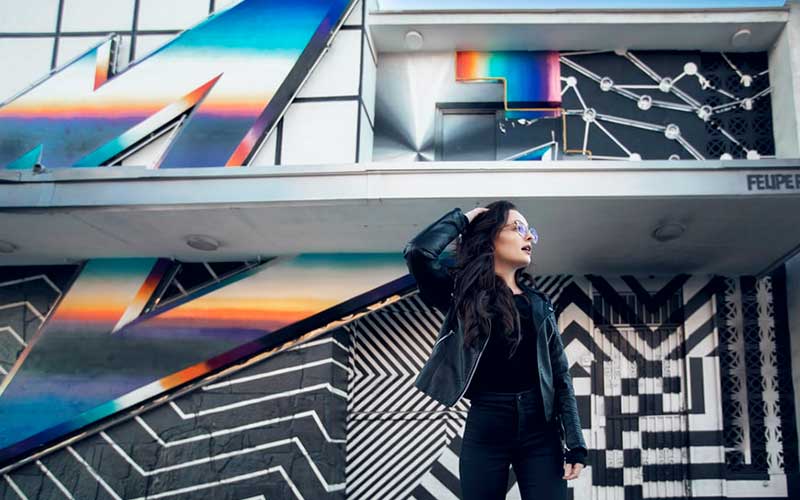 Based on the information above, it is possible to conclude that holding virtual exhibitions for the art world has become necessary to reach various target audiences, continue functioning even in times of crisis, expand cash flow, as well as continue educating the community.
Changes in the art market
​​Also, one fact cannot be ignored that within the framework of the new market that has emerged – the activities of collectors have become more transparent. If earlier many hid their faces, and their contacts couldn't be found in the public domain, now, within the digital space, we have all the information about them: we know their social networks, they don't hide themselves and it is easy to contact them directly. On the contrary, they promote their personal brand.
Furthermore, the nature of blockchain makes the market more transparent, and now we can see all the prices and deals, unlike the traditional market. And considering the fact that our behavior is changing in the digital space, as more and more time we spend there, it becomes easier for us to start a dialogue with collectors because it is easier to hide our excitement and seem confident in a face-to-face meeting.
How to compete with other digital market players?
However, it's necessary to remember that it is not enough just to digitize the artworks and place them on the website, hoping that by doing so you can create additional space for the functioning of your art institution. In order to compete with similar players in the digital market, it is necessary to make the user experience as close to reality as possible so that visitors in the digital space can feel as little as possible gap between the emotions and feelings of two such different experiences.
As a result, AR technology comes to the rescue in this matter. It helps to bring the experience in the virtual space closer to the real one, and somewhere even to expand it. How often have we faced a situation before the pandemic when we came to a museum to enjoy artwork, but couldn't do it to the right extent due to the crowd of tourists? Silence is necessary in order to fully experience the artwork so that nothing distracts or annoys a person.
AI Art: how digital art is evolving? – in detail in our review
This is exactly the problem that AR technology solves. Thanks to this, we can plunge into the exhibition space in a familiar environment and without external stimuli. A visitor in a virtual exhibition has unlimited time to view and enjoy the artwork. This technology also provides something that was often inaccessible to us in a real exhibition space – the ability to get as close as possible to the exhibit and examine it in flesh to the smallest detail.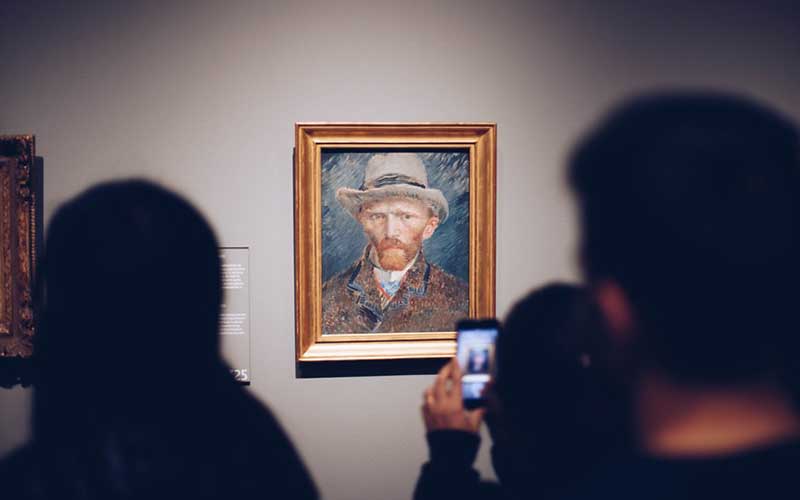 But the main thing that we have to remember is that the digital market is developing and competition for the viewer begins to play not the last role in it. Accordingly, it is not enough just to create a virtual exhibition. As with real-life experience, you need to think over its concept, visuals, advertising campaign, and so on. And not the least task is to try to make it unique so that people will talk about it.
We can say that the way the virtual exhibition space looks is becoming even more important than it was in the real world, because access to such exhibitions is open to a larger number of visitors, and, accordingly, it is easier for them to compare the quality of what they see. Therefore, before starting to create a virtual exhibition, it is necessary to find a curator and a technical team that will help create a unique experience for the visitor.
A few examples of how different and inspiring virtual exhibitions can be:
In conclusion, we would like to note that the future has already arrived. Like all digital technologies, the possibilities of the digital space for the art industry will develop at a tremendous speed and it is very important for art institutions to develop themselves together with the technologies to not appear irrelevant for visitors.
Therefore, it is necessary to accept that the digital and real-world exhibitions will continue to exist in unison, not contradicting, but complementing each other. And it is better to be one of the first at the forefront of the new digital world of the art industry in order not to try to catch up with the competitors in development later.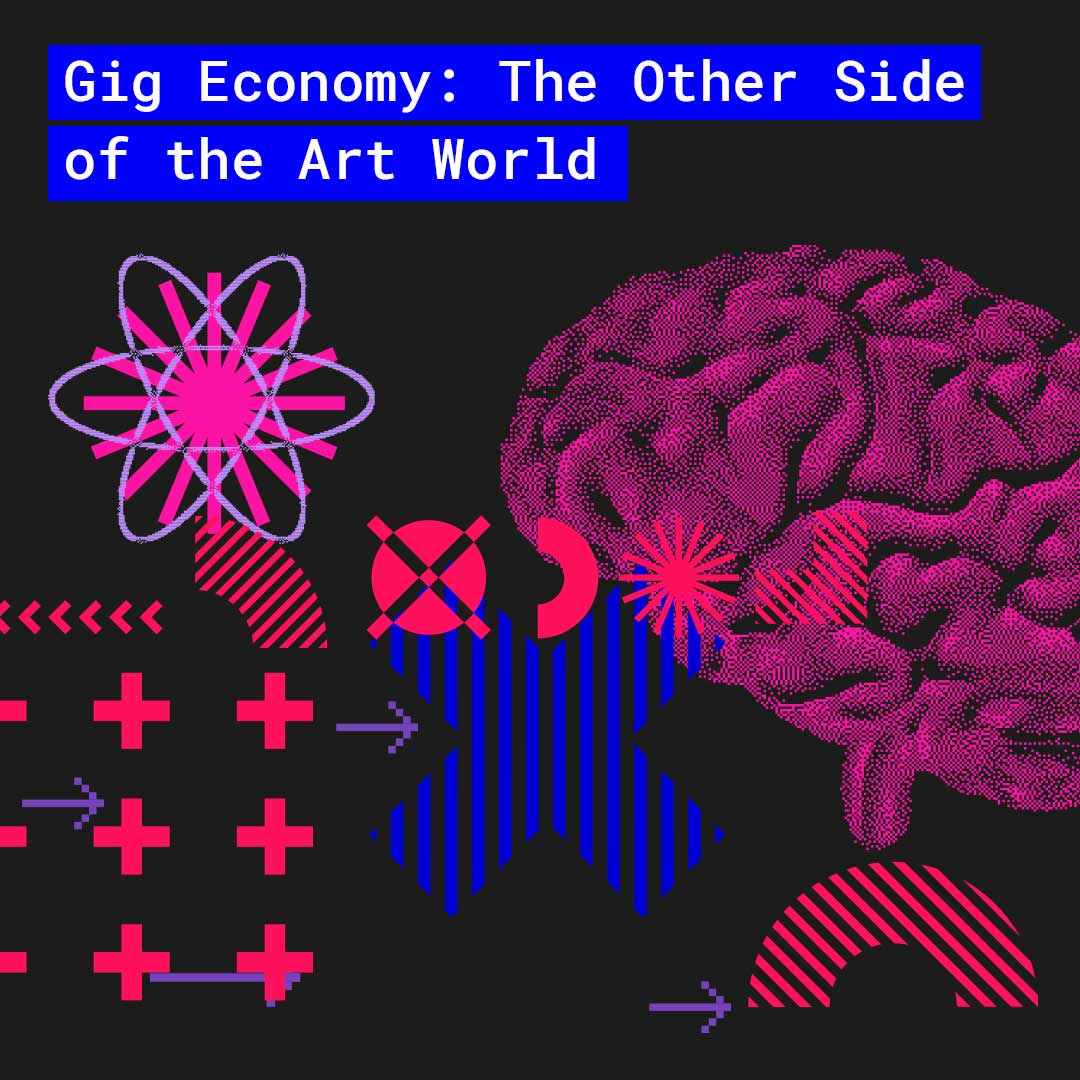 Gig Economy: The Other Side of the Art World
The gig economy is one of the important things which can make people understand the art market better. Some can think of it as a great opportunity to find clients, others think that gigs are not a part of the glamourous art world. There are many opinions, so let's figure out what's true. What is […]
Read More