Author: Anna Sagalova, curator of the musical direction of the project and Merited Artist of Ukraine
Music therapy
Music therapy appeared in 1945 when it began to be used in American military hospitals. Nowadays music therapy is mainly used in the treatment of neuroses and in working with people who have certain developmental disabilities, but it would be a mistake to think that this is the only field of its application. In recent years, music therapy has become an increasingly popular method of coping with stress and improving emotional well-being. It also helps to improve memory and communication skills, lower blood pressure, etc. Such therapy involves not only listening to music, but also playing instruments and composing music – and all three methods are effective even for those who do not have musical skills.
It should be noted that not all music is therapeutic, and each style has a specific effect on the listener. For example, electronic music and music of the Romanticism era, which is characterized by abrupt changes in mood and strong emotionality, only intensify the depressive state, when the music of the Baroque and Classical periods with their harmonious rhythmic organization contributes to the normalization of the nervous system.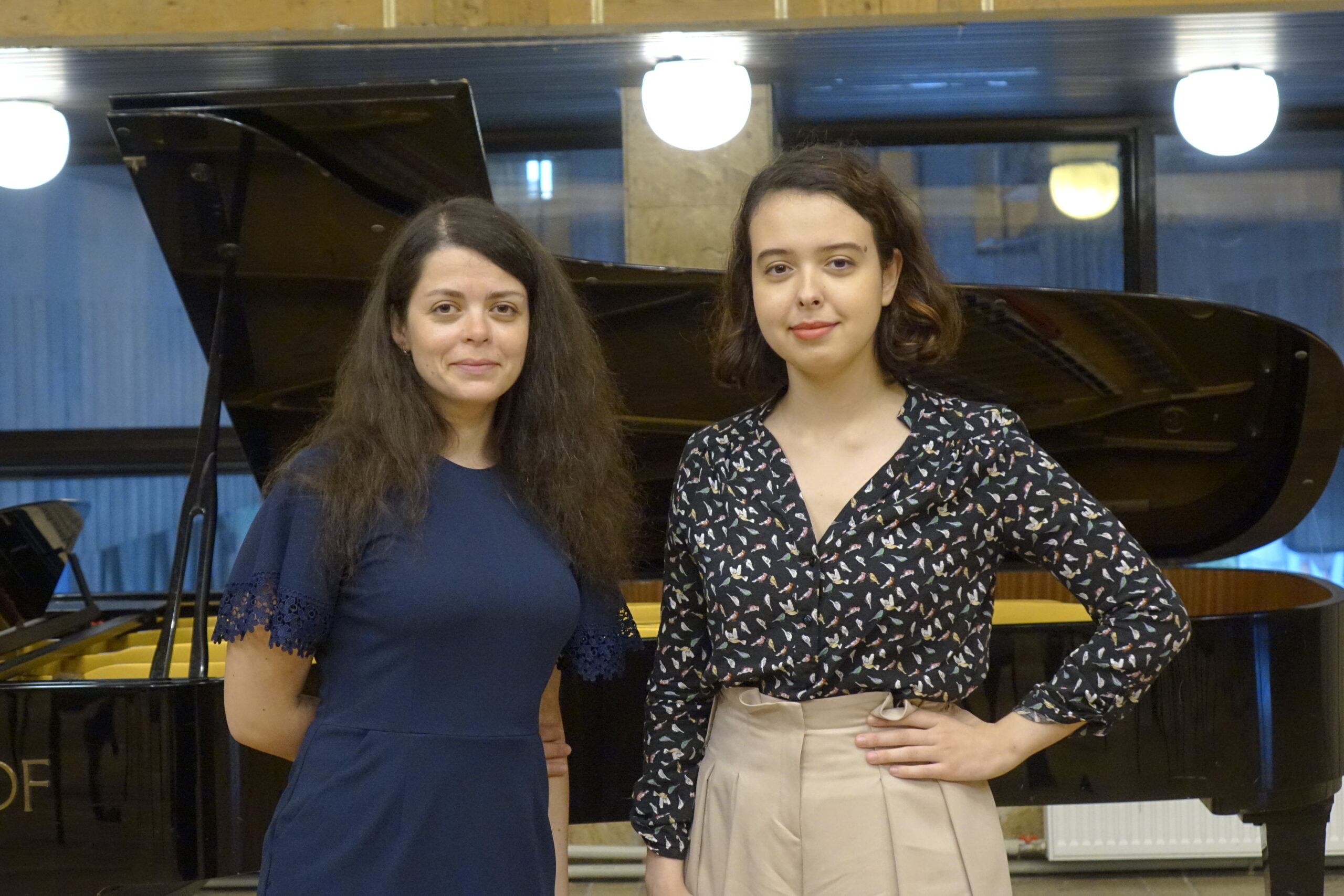 Anna Sagalova, curator of the musical direction and Anastasiia Gliebova, coordinator of the project Digital Art therapy Studio
But sound does not always have a positive effect on a person, especially a modern one, who is constantly accompanied by it: in cafes and supermarkets, on the streets and in transport, at home and work. The sound environment can have opposite effects: one is to excite and destroy, the other is to structure, soothe.
Who is a music therapist?
To use music therapy, special competencies are required, including not only knowledge and understanding of music, but also skills in medical psychology and physiology. There are two recognized ways to become a music therapist: the first assumes that after completing a musical education, performing musicians enter the field of psychology and use their musical skills to interact with the audience, work with neuroses, depressions, etc. In fact, any kind of music for any occasion can be used in such therapy. The second method is the opposite: professional psychologists and psychiatrists receive a second education, which allows them to master basic musical skills. Such specialists use music and its sounds to work with seriously ill people, people with autism, for example. This is an entirely medical direction, in which we cannot delve far, since we do not have such equipment, and most importantly, it is fundamentally different from what we were doing during the DIGITAL ART THERAPY studio project. In the second type of music therapy, the final piece does not matter – the only thing that matters is the patient's ability to get inside the music and communicate with the help of sounds.
Although the field of music therapy is already well established in the world, in Ukraine it is just beginning to take its first steps. Music therapy is already used in the Ukrainian educational process on a foundation of a national scientific basis. For example, two years ago, Kharkiv State Academy of Design and Fine Arts introduced a new educational and professional program "Artistic and pedagogical therapy", which allows students to obtain the qualification of an art teacher, and I.P. Kotlyarevsky the Kharkiv National University of Arts began to develop a new second-level higher education program "Musically-pedagogical therapy", which will combine the components of medical psychology and the method of inclusive education.
Classical music and art therapy
It is believed that the most healing is the music of the late 18th century, which is the works of the Classical period – Mozart, early Beethoven, Haydn. Therefore, implementing the DART studio project, we did not bypass this fact and decided to focus on the music of the Classical period, but on Ukrainian: for example, on the compositions of Maxim Berezovsky and Dmitry Bortnyansky, who, by the way, studied with Mozart in Vienna. We also paid a lot of attention to the compositions of the mid-19th – early 20th centuries by Ivan Levitsky, Viktor Kosenko, Mykola Lysenko, Mykola Kolyada, etc.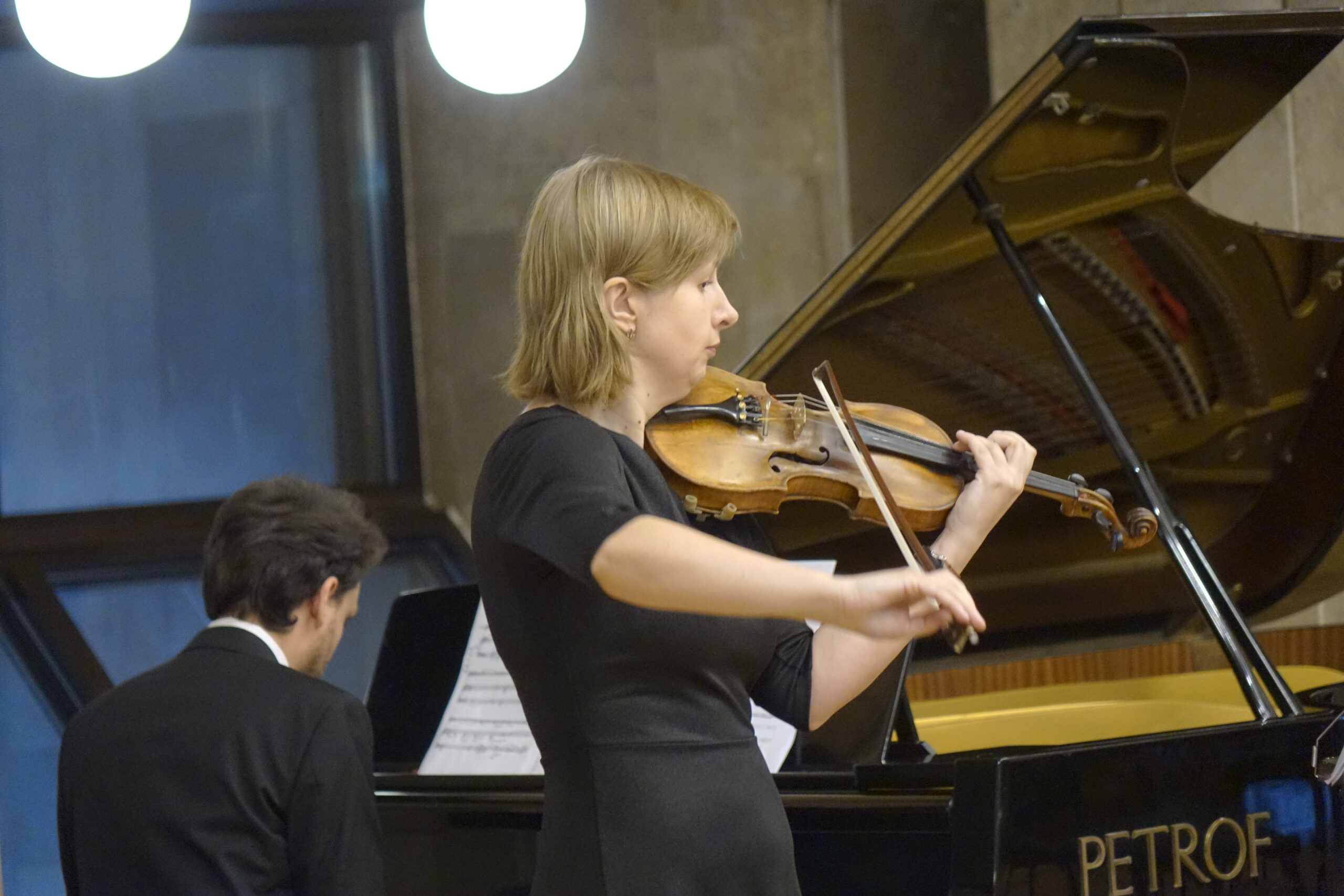 Photo from the Digital Art therapy Studio concert
However, the music of the 18th century is becoming more and more difficult for a modern person to perceive and does not evoke the former delight. This is because with each subsequent generation the perception of music by the listener was transforming, because preferences and what we hear in the environment change. The further we move away from classical music, the more difficult it is to perceive, and this problem is one of the key ones that we tried to solve within the project. Choosing musical accompaniment for art therapy works, we tried to demonstrate how useful and therapeutically important classical, live, acoustic music is. We also tried to emphasize the benefits of the habit of regular and thoughtful listening to classical music, because, although this activity requires effort and more concentration at the beginning, it bears fruit later.
Although the DART studio project focused on classical music of the 18th century, we welcomed experiments: some of the compositions were interpreted by the arrangers and presented in unexpected sound and performance. Contemporary music was also featured in projects. Musicians wrote compositions in collaboration with artists, trying to give a sound coloring to the works. The use of monotonous rhythms and low frequencies was the only thing that we avoided while working on digital art therapy projects, because, although such things may be enjoyable for a certain period, later they begin to cause colossal damage to the nervous system.
The synergy between artist and musician
It was valuable to observe how musicians changed the perception of artists, how artists tried to hear what they were painting, and how musicians tried to see what they were playing. We are talking about synesthesia, a neurological phenomenon in which sensations emanating from one sense organ also manifest themselves in another. For example, when looking at yellow or orange, you feel warm and while looking at blue-green, you feel cold. There is even sound-color synesthesia, also called "color hearing" – a condition in which musical sounds, pitches, or tones evoke color associations.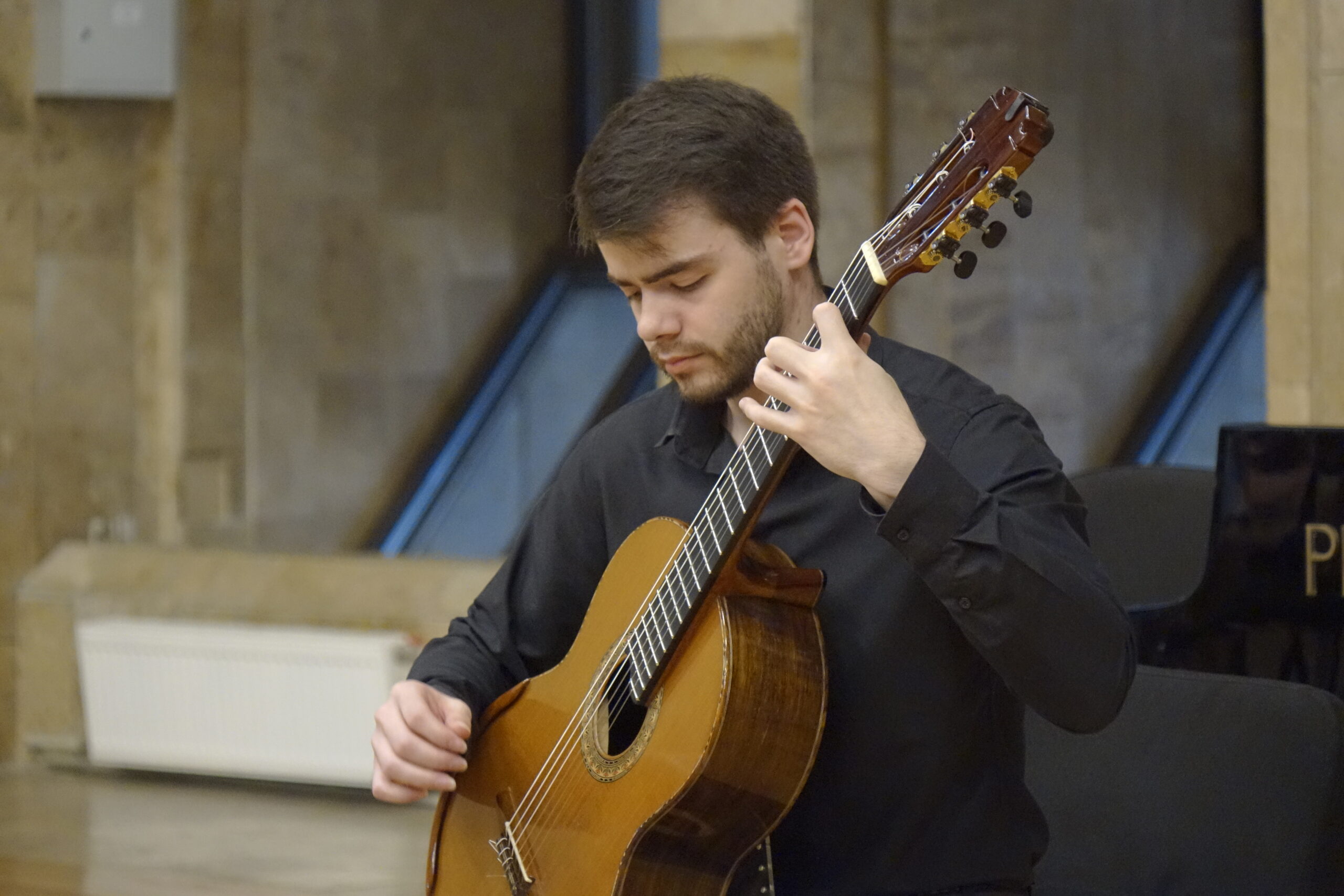 Photo from the Digital Art therapy Studio concert
Probably, the search for common points of contact, as well as the atypical approach of musicians and artists to work, influenced the fact that not every work was aimed at creating a relaxing effect: the projects turned out to be quite emotional, sad, bright and deep. And this is undoubtedly a plus: the therapeutic effect consists not only in creating a calming effect, but also in switching to another emotion. Or, on the contrary, when a person, for example, is sad or scared, sometimes it is worth listening to equally sad or scary music to fully feel this emotion and move on. It seems that our artists and musicians have coped with the task quite well, creating several projects that work with a diverse spectrum of emotions and experiences.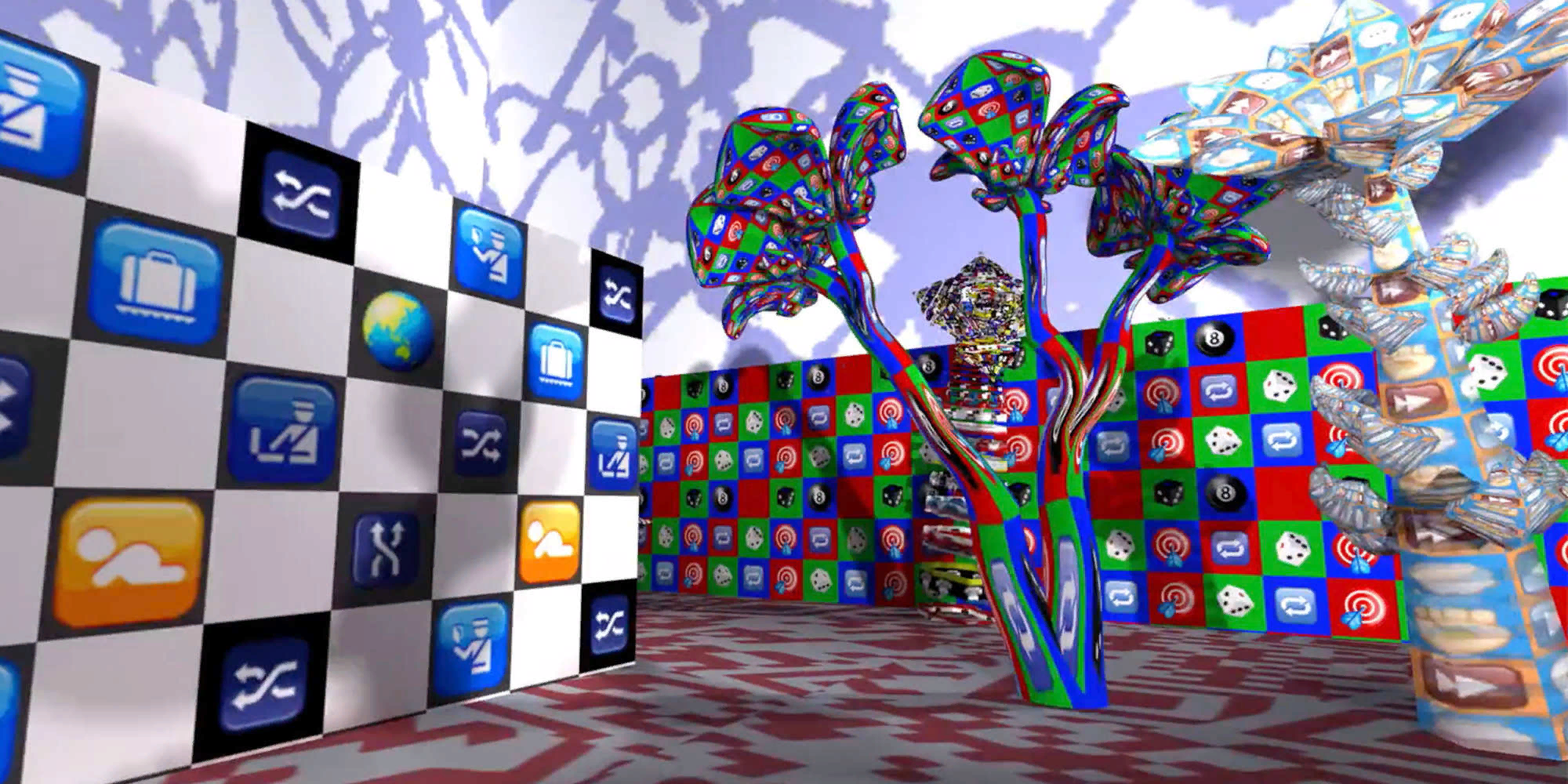 Experience of combining different art forms of new media on the example of the project "Digital Art therapy Studio"
Topicality For the first time, the cross-sectoral project Digital Art therapy Studio combines digital art with classical Ukrainian music in order to achieve an art-therapeutic effect, digitalize art therapy and create an innovative direction at the junction of visual and audio art. During the online residency "Digital Art therapy Studio" musicians and digital artists created […]
Read More