close window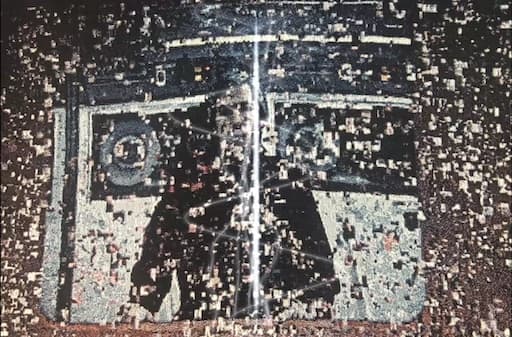 Alexandra's main interests focus on social psychology and perception and their application in multimedia interactive installations. Her artistic research process happens in the here and now, in the increasingly technologized present. It is deeply rooted in its cultural context. Photography and other digital media always record a trace, which indicates the former presence of something. Attesting to a certain event the trace at the same time enshrines the technology in use, thus acting as a witness to contemporaneous culture. Similarly, she tends to reflect on behavioral patterns and cultural mechanisms that are characteristic of modern society. Her works can be found in Museum collections and are exhibited around the world.
www.alexdementieva.org
Sleeper
The "Sleeper" installation presents tapestries being excavated in 4500 by our descendants/ space travellers and their interpretation of that archeological discovery. The size of each carpet is 55х77 cm and corresponds not only to the average size and aspect ratio of a cabinet easel painting but also to one of the typical television screen ratios of the last century.
The tapestries arranged along the whole perimeter of the space imitate a picture gallery. Each of them is based on a still image from Woody Allen's film "Sleeper" (1973). However, the stills serve only as a basis for the images since all of them have been completely transformed — "glitched" — practically beyond recognition as resulting from a computer breakdown during the viewing of the film. However, the order of the narrative development is rigorously preserved — still images are arranged in the same sequence that they appear in the film. In some of them, one can discern particular scenes and characters; however, the tapestries gradually turn into something similar to abstract painting.
Using the iOS or Android platforms one can link up to the work and listen to a story of this tapestry told by scientists of the future. We learn that human evolution went farther than we could imagine, that they managed to dispose of the physical body and exist in a form of light waves. All in all, we are presented with a picture gallery, each tapestry of which is both an interactive symbol of the past century and a certain prospect for the future.
2020

«Artprise»
Пре́мія «PinchukArtCentre»

Перший конкурс Премії «PinchukArtCentre» у 2009 році, до якого долучились понад 1 100 українських молодих художників. На першому конкурсі на премії надійшло понад 6000 заяв зі 125 країн. Відібрали 32 учасника, роботи яких були представлені в «PinchukArtCentre».

2018

Премія Кандинського
Номінація «Проект року Media Art»

Премія Кандинського — премія, встановлена в 2007 році російським культурним фондом «Артхроника» (Москва). Переможець визначається відвідувачами виставок, відвідувачами веб-сайту премії он-лайн, а так само за допомогою sms-голосування.

2015

Премія Кіото

Заснована в 1985 році японською керамічною компанією в Кіото як японський аналог Нобелівської премії. Її призначають за видатні дослідження в галузі: філософії, фундаментальних наук, передових технологій, з 1987 року(в кожній — раз в 4 роки).